Theslayqueenb
February 09, 2018 18:38
Just Another Fashion Game | Task 5 | Celebrity Impersonators
Pick To Win
@CristinaMihaela | @IrishCraic
@Evilgenious448 | @bestkwarteng
@motomoto99 | @Magic
@Krysstian | @Riot
@iiAmySunshine | @Nightgem677
@carterlinke01 | @ChrisDWa
@popular | @Puffs
---------------------------------------------------------------
8th - @nikias | @davidprincipe29
9th - @JohnTheGreat | @Big_Brother_Fan
10th - @Runaways | @Nicolas
11th - @SwagSwag | @Parrish101
12th - @thunderdownbelow | @DynomiteKid4000
---
on February 10, 2018 23:43
iiAmySunshine
@Finesse
if I put 0 effort or thought into it then why did I choose to do Tana and actually make it look like she's from ETN? Buh-bye :P
on February 10, 2018 12:33
Finesse
But you literally put 0 thought or effort into your look.
on February 09, 2018 22:04
iiAmySunshine
@Finesse
, it's not lazy, it's called using them to my advantage. Just like I can't recolor, so to those who do/can it's a disadvantage for me
on February 09, 2018 21:29
Finesse
So you used a Tana custom to do an impersonation of Tana and you're still in? Count your blessings babe cause that is the laziest thing I've ever heard.
on February 09, 2018 21:16
ExoticSimmer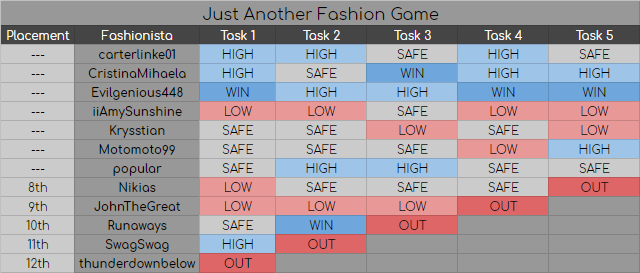 on February 09, 2018 20:57
iiAmySunshine
You do need photoshop or something like that to recolor, so sorry that I don't use recoloring and don't NEED it to make avatars
on February 09, 2018 20:54
joeyc
Editing isn't even allowed in this game. Only recoloring. You don't need photoshop skills to recolor.
on February 09, 2018 19:39
iiAmySunshine
I do not feel as though it should affect the score EG. I think that if you're allowed to edit, you should have just the same amount of rights to use customs. I mean, I can't edit, but do I gfet upset if someone else does? No, because they're just using their skills to their advantage of photoshopping
on February 09, 2018 19:37
Evilgenious448
@iiAmySunshine
what if lets say someone got Trishy to make a full avatar custom for this challenge based on a pic of a celeb they sent to her and submitted that for the challenge....do you think that should be penalized or no?
Just curious how you feel about that one, cause it's a question I ponder over for my own group game
on February 09, 2018 19:35
iiAmySunshine
My score shouldn't have been affect just because I used customs tbh. Not my fault that the theme was dumb and I decided to use my customs to my advantage :)
on February 09, 2018 19:29
matthewmsloth
OMG miss popular's new york gave me all the jush i needed yall
on February 09, 2018 19:21
iiAmySunshine
At least I didn't go home, but are you kidding me? I got in the bottom 3 again?
on February 09, 2018 18:47
Evilgenious448
"I'm wrestling with some insecurity issues in my life but thank you all for playing with me."
@ExoticSimmer
and everyone else who plays overwatch and gets the reference. 3rd win so far :)
This conversation is missing your voice! Please join Zwooper or login.
Sign up or Login