Vin014
November 25, 2021 01:31
(CHANGED) Wendy William confined to a wheel chair and suffering from "Extreme Mental Issues"
Yes, I learned yesterday that Wendy Williams was paralyzed from the waist down
and is showing early signs of [REDACTED] . I LOVE WENDY! How you Doin?!?
Welp apparently not good.
I got very curious as to why she wasn't hosting her show and to hear this
news is devastating. Please keep Wendy William in your prayers.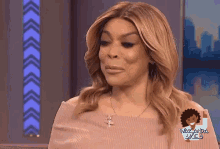 ---
on November 25, 2021 02:33
RobbedGoddess
Not Wendy :( I love herrrrr
on November 25, 2021 01:59
Benley
woah what the fuck- no way.... thats so scary i hope shes ok. The brother seemed to allude to it wasnt that bad
on November 25, 2021 01:56
Green
I hope this is fake news because I adore her so much.
This conversation is missing your voice! Please join Zwooper or login.
Sign up or Login