ZCageMaster
December 06, 2017 22:11
THE CAGE ALL-STARS - DAY 5
A third All-Star is banished.
Tactics continue to impact the game.
Chaos continues to reign.
It's time for THE CAGE!
Yesterday, with Vin014 leaving The Cage, three new nominees were announced. Neme81, RobJok, and Timman10 all faced banishment over the last 24 hours. Micks took control as the newest Supreme, his first in Cage History. Which All-Star left The Cage today?
neme81 – 54.7%
RobJok – 34.0%
Timman10 – 11.3%
Congratulations @carterlinke01, you are the winner of the random 25 chip drawing. Those chips should make their way to your account shortly.
Just after neme81 left The Cage, the new nominations were announced and a new Supreme was crowned. Who currently find themselves on the chopping block and who holds power today? Let's find out.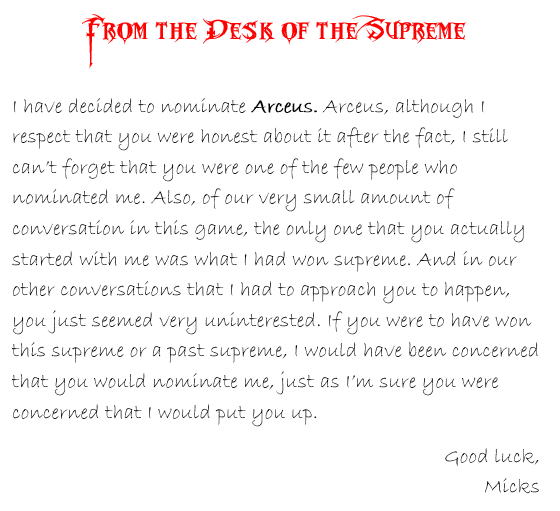 Arceus – 0 – Nominated by Supreme
angeloxpo – 17 – Nominated
Jqred – 17 – Nominated
Jay – 11
Nickg24689 – 2
Swish – 2
neme81 - 1
2 All-Stars used CHARGE.
3 All-Stars used DEFEND.
Congratulations
@Connor
on being crowned the next Supreme! In addition to 40 chips and Talks Page privileges for the next 24 hours, you've also earned the ability to single-handedly nominate one of your fellow Inhabitants for Banishment.
@angeloxpo
,
@Arceus
, and
@Jqred
, the three of you have been nominated for Banishment. Zwooper public, it is now time for you to vote to Banish one of these Inhabitants. Please put the name of the Inhabitant you want to banish in the title of a message sent to this account. This saves me from having to open them up individually. All members of the public that vote will be entered into a random drawing to receive 25 chips. You have until 21:00 Z-Time tomorrow to vote, so cast your votes NOW!
Which of these Inhabitants will be Banished from The Cage? Who will be nominated next? And how will the tactics continue to impact the game? Find out tomorrow!
~CM
#TheCageAS
#WarGames
---
on December 07, 2017 01:20
Cartur
Arceus deserves to go. That's the truth and nothin but it/
on December 06, 2017 22:35
johnnyscott1127
#ISTANWITHMYWINNER #TeamAngelo. The other two can fight for my vote
on December 06, 2017 22:28
McKenna
on December 06, 2017 22:22
km1997
Saving Jared and Arceus
on December 06, 2017 22:19
JaMarcus_Russell
Lmao RIP the premade
on December 06, 2017 22:18
doobee
I gladly vote to evict angelo

on December 06, 2017 22:16
Peyton
damn :| Tough vote imo
This conversation is missing your voice! Please join Zwooper or login.
Sign up or Login